Book now
Gran Hotel Velazquez, Madrid
CURRENCY: U.S. dollar USD

Euro (EUR)

Pound sterling (GBP)

U.S. dollar (USD)

Canadian Dollar (CAD)

Swiss Franc (CHF)

Yen (JPY)

Australian Dollar (AUD)

Yuan (CNY)

Rouble (RUB)

Rupee (INR)

Czech Koruna (CZK)

Norwegian Krone (NOK)

Danish Krone (DKK)

UAE Dirham (AED)

Brazilian Real (BRL)

Hong Kong Dollar (HKD)

Jordanian Dinar (JOD)

Malaysian Ringgit (MYR)

New Zealand Dollar (NZD)

Omani Rial (OMR)

Kina (PGK)

Romanian New Leu (RON)

Saudi Riyal (SAR)

Swedish Krona (SEK)

Singapore Dollar (SGD)

Thai Baht (THB)

CFP Franc (XPF)

South African Rand (ZAR)

Moroccan Dirham (MAD)

Argentine Peso (ARS)

Taiwan Dollar (TWD)

Kuwaiti Dinar (KWD)

Bahraini Dinar (BHD)

Icelandic Krona (ISK)

Philippine Peso (PHP)

Bermudian Dollar (BMD)

Paraguaian Guarani (PYG)

Brunei Dollar (BND)

Polish Zloty (PLN)

Shekel (ILS)

Mexican Peso (MXN)

Fiji dollar (FJD)

Qatari Riyal (QAR)

Kazakhstan Tenge (KZT)

Belarusian Ruble (BYN)

Namibian Dollar (NAD)

Uzbekistani Som (UZS)

Dobra (STN)

Honduran Lempira (HNL)

Malagasy Ariary (MGA)

Convertible Mark (BAM)

Indonesian Rupiah (IDR)

Colombian Peso (COP)

Tunisian Dinar (TND)

Turkish Lira (TRY)

Vietnamese Dong (VND)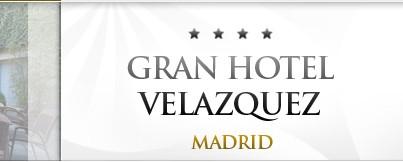 Home > Hotel
In the prestigious neighbourhood of Salamanca, where glamour meets art, fashion and business, you will find our hotel the Gran Hotel Velàzquez. On the street of the same name, our four star structure has been successfully offering luxurious accommodations in a central positions for sixty years.

Our 143 guest accommodations offer a classic and elegant interior design with lovely furnishings and the latest technology.

Conferences and meetings:
For its ideal position, and its convenient access to public transportation, this perfect location in the business district of the city makes the Gran Hotel Velázquez just the thing for those who need to organise business meetings. It has six meeting rooms with moveable dividers that offer all the latest technology and comforts to organise meetings for as many as 400 participants.

Restaurants:
After a long day of touring around the city, our expert staff in the kitchen is proud to have you taste their specialties from the two restaurants available. Here guests will find the best in Spanish cuisine and also international specialties.

Weddings:
The Hotel Gran Velázquez offers 6 rooms that are perfect for banquets, a modern atmosphere with a classic touch. It is possible to organize celebrations for as many as 350 participants, making any event or wedding truly spectacular. For those newly weds, we offer the Suite Velázquez, a cosy setting with a special bathroom complete with Jacuzzi tub and a separate rooms with lunge measuring 60 m2.
Give us your Feedback
Gran Hotel Velazquez, Velazquez, 62 - Madrid
MadridHotels.it
Copyright © 2008 - 2020 | P.IVA# 03458490277